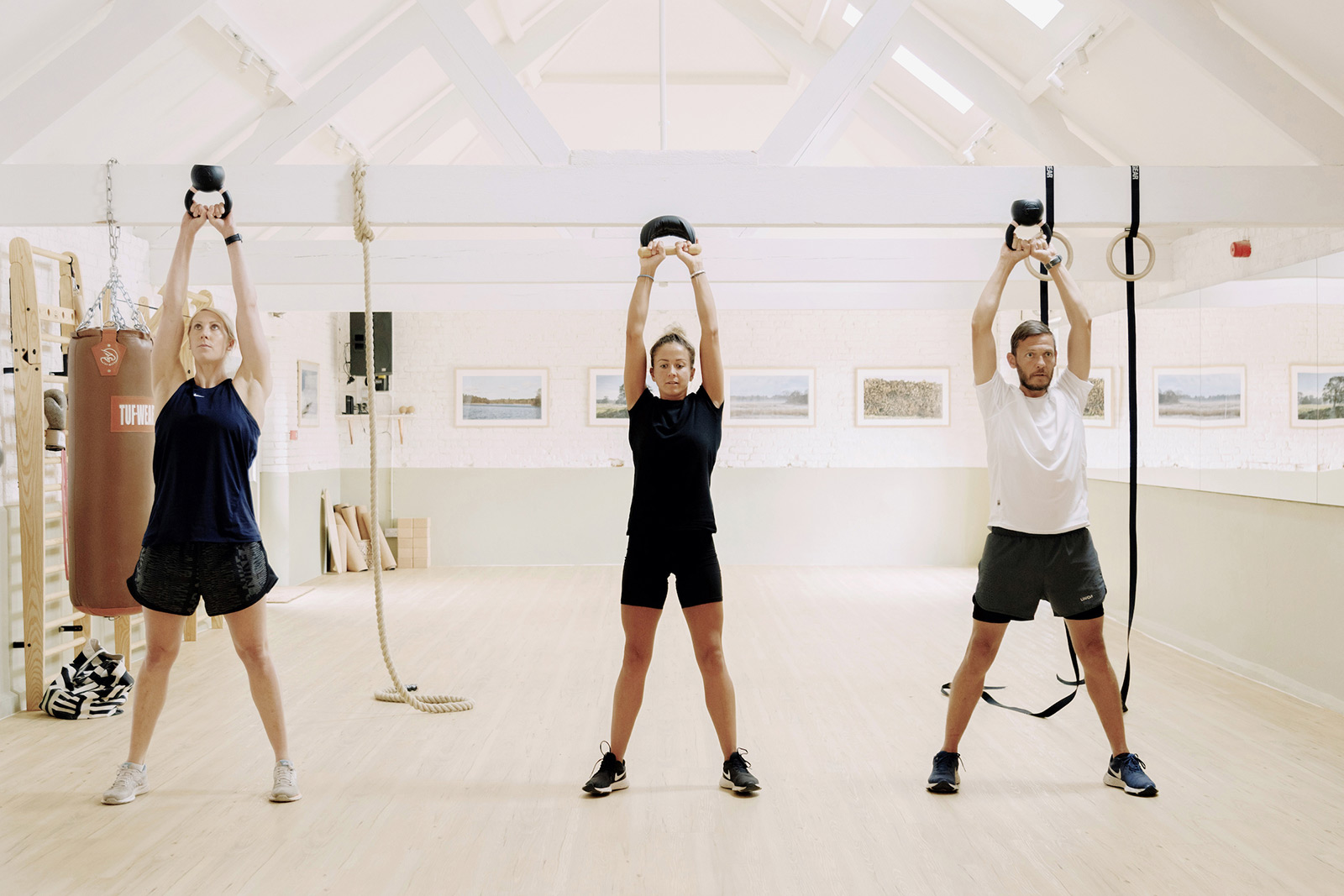 Open seven days a week from 8am to 8pm, the biophilic gym is designed to bring the wellbeing benefits of the great outdoors, inside. Featuring handcrafted kit made of natural materials you can work with our sports and recreation manager to create a bespoke work-out experience which supports Fritton Lake's commitment to sustainability.
Three zones are dedicated to cardiovascular, strength and mobility. Equipment includes an oak-framed curved treadmill, water rowing machine, vegan leather punch bag and an array of weights including a power rack. Stretching and cool downs are on cork yoga mats, eco foam rollers and mobility balls made from vegan leather.
We have classes, private or partner personal training sessions, events & workshops and wellness & sports massage all available in our new, modern gym.
Our classes include:
Bootybarre: Fun, high energy class, working your core at the bar. It fuses legendary fitness techniques from Pilates, ballet, calisthenics and yoga.
Dance fit: A fun filled class that incorporates disco, salsa, jive, cha cha cha, merengue plus much more.
Full body sculpt: Sculpting is a conditioning class that will strengthen and tone the whole body, using body weights to sculpt and tone muscles.
Pilates: A class working from the inside out to help improve posture, flexibility, mobility, and core strength. It will help to reduce back pain and prevent injuries. It will improve your balance and help put symmetry back into the body.
Yoga: Yoga classes are with a senior registered teacher with 15 years of experience. The teaching style is varied, creative & intuitive. Yoga that breathes, grows and changes with life, energy and the seasons.
If you're a member or staying with us be sure to book in with a fantastic massage from Kismet Wellbeing, it's perfect for mind, body and soul.
Strength & conditioning – A class designed to target those core areas of strength needed for swimming, running and all over toning for all ages and abilities. These 45 minute sessions include using weights and a range of weighted equipment to test and improve your full body strength.
Family fitness (new for 2023) – A class to bring the family together whilst enjoying a range of team building exercises, sports and fitness led exercises to keep the family healthy during your stay!
If you're a member or staying with us be sure to book in with a fantastic holistic treatment from Kismet Wellbeing or sports massage with Nicola, it's perfect for mind, body and soul.
Holistic Massage
Sports Massage
Reiki
Hot Stone Massage
Pregnancy Massage
Indian Head Massage
Check out our induction video to find out more about our gym and how to use it safely