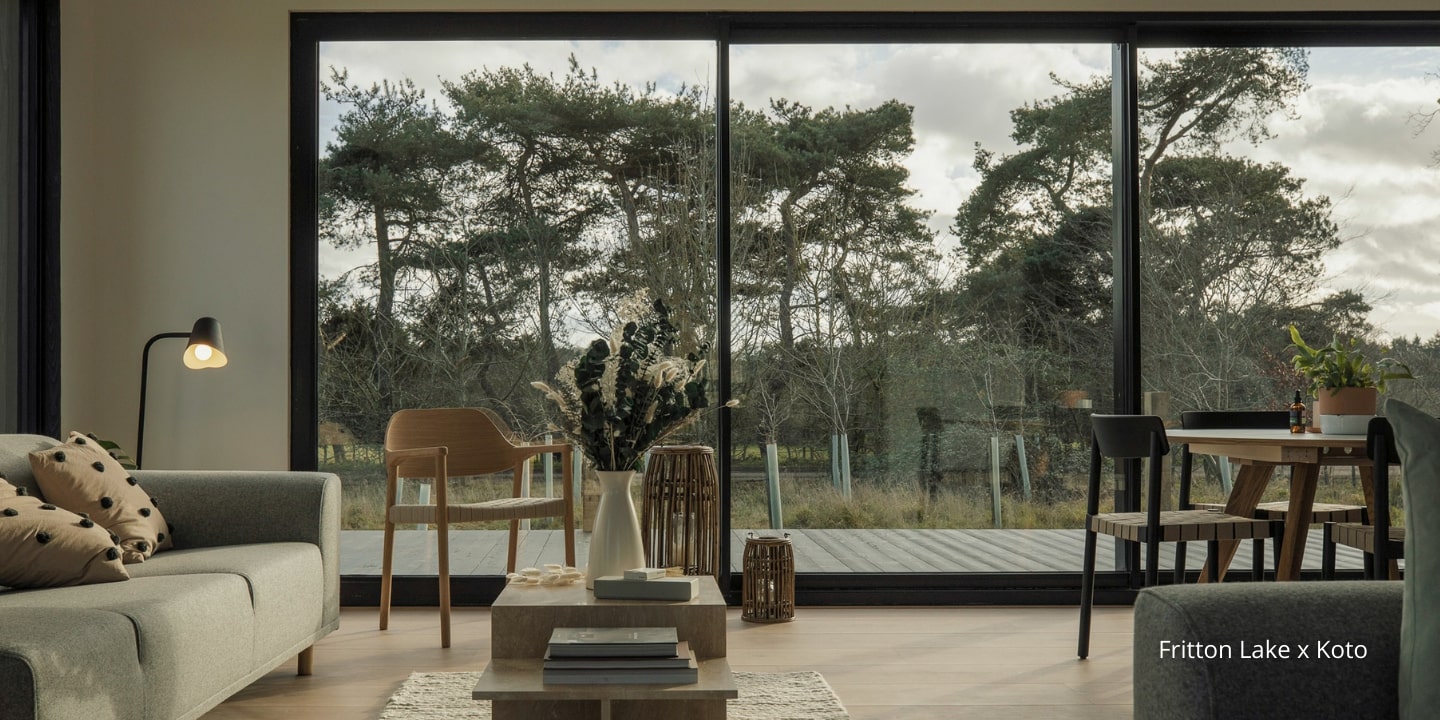 3 Bed | Hot Tub | Lake View
Hill Wood 02
Fritton Lake x Koto is a design-led modular building which is beautifully crafted and engineered to be as energy efficient as possible. Inspired by both the ethos of Scandinavian design and in their way of living. Offering 3 bedrooms with king size beds and open plan this is the perfect retreat for quality time in nature with friends and family.
Please Note: This property is not dog friendly.
Images shown for illustration purposes and reflect a typical Koto cabin design.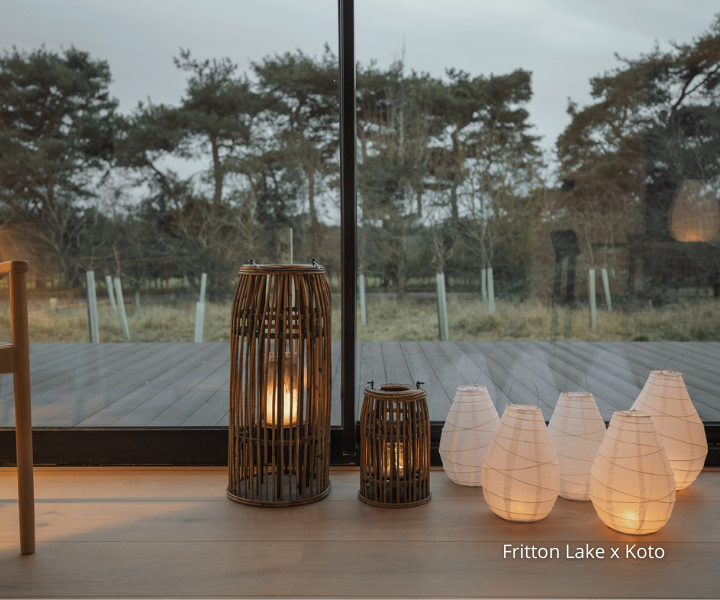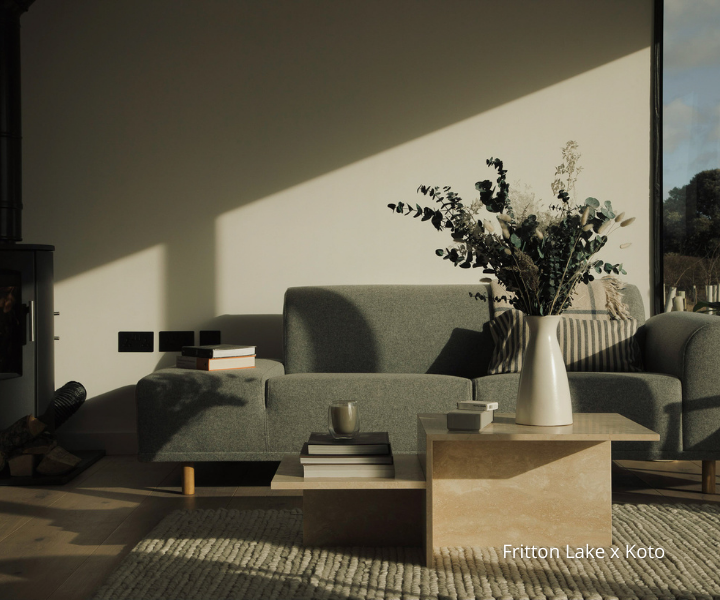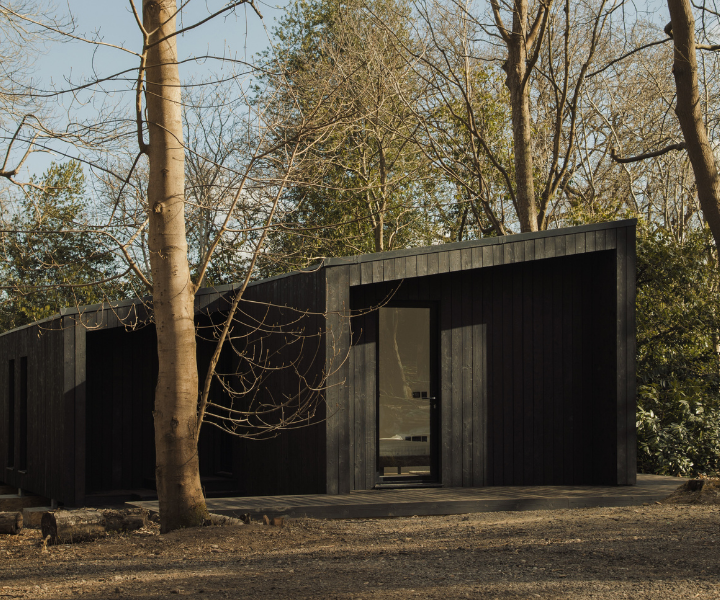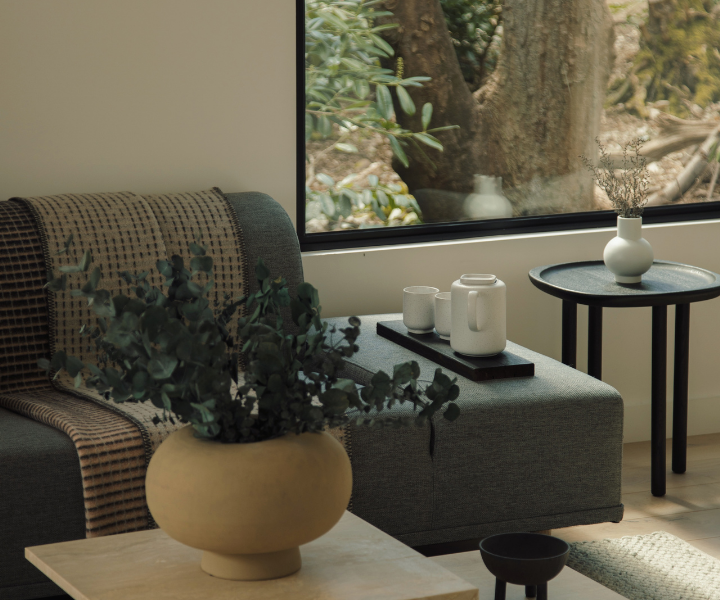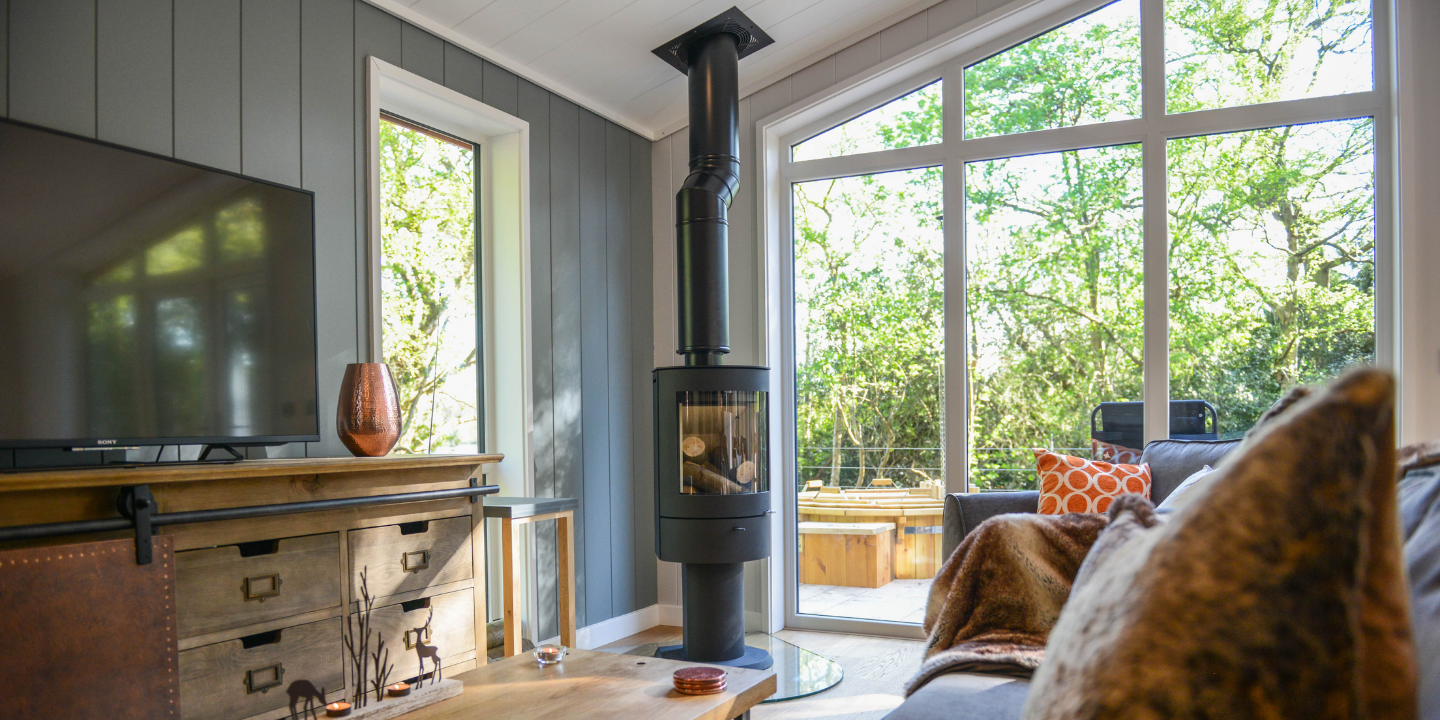 3 Bed | Hot tub | Lake View
Hill Wood 08
Nestled away from the bustle of the main resort. It's a perfect hideaway for those wishing to be away from it all amidst our natural light and airy oak woods. The southerly facing sun terrace with lake views has a wood fired hot tub, with a small sauna built into the back of the cabin. It has 3 bedrooms, 2 double and 1 twin with an ensuite shower off the main bedroom plus a family bathroom. The double front aspect has large doors leading to the sun terrace and hot tub.
Please Note: This property is not dog friendly.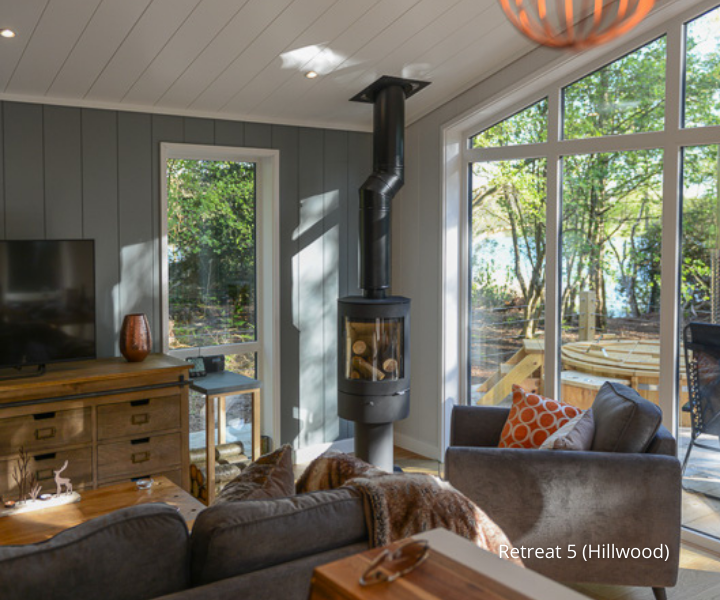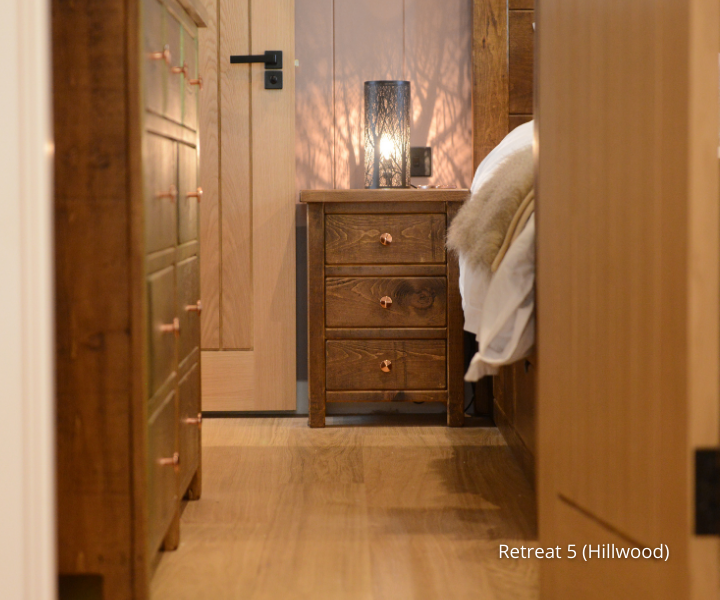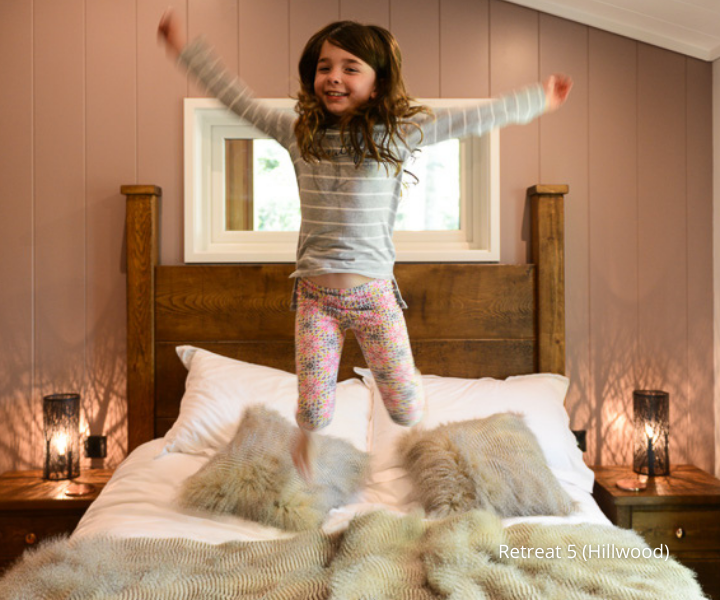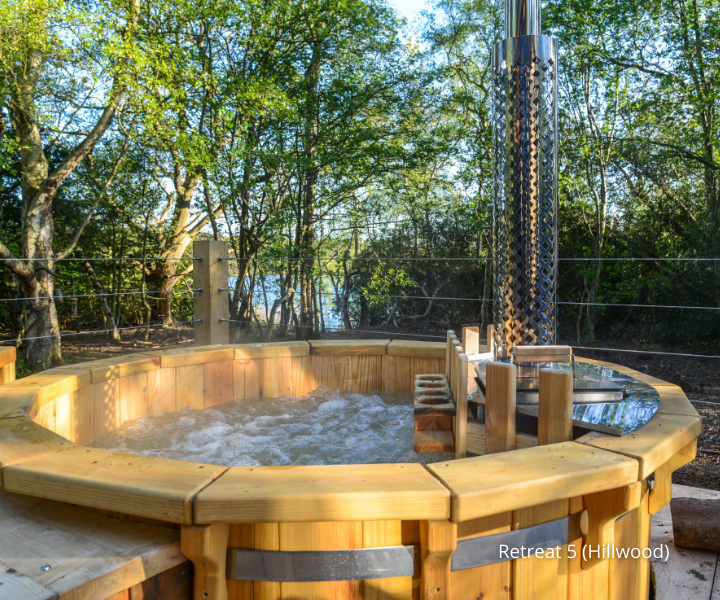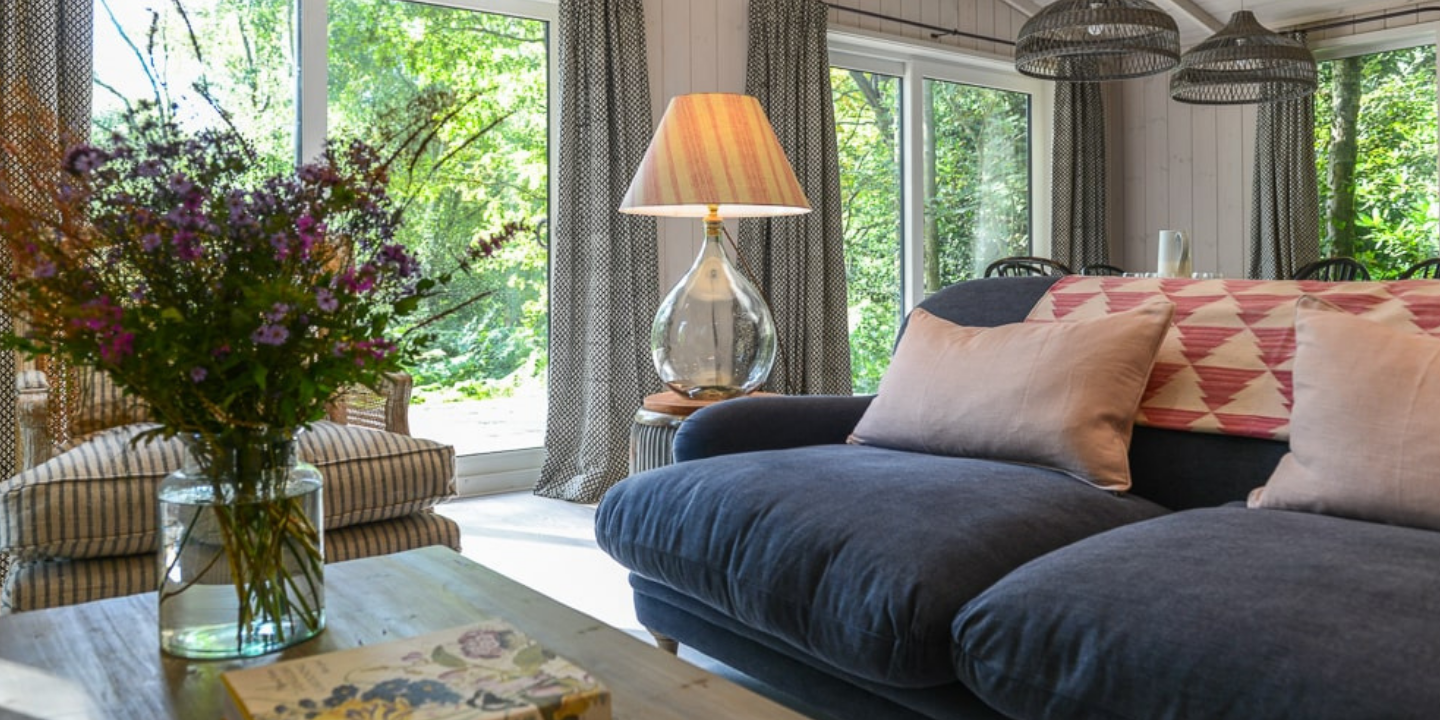 3 bed | Hot tub | Lake View
Hill Wood 12
This cabin is smart, secluded and stylish. With all of the home comforts you expect and more, including a wine fridge, wood burning stove and hot tub, this cabin will make the perfect family get away from it all, with a lake view from a set back elevated position. With its 'Scandi' influenced white washed walls and floors, its sumptuous furnishing – including squidgy Loaf sofas, contemporary lighting and gorgeous finishing to the bathrooms and kitchens this is a really special place to spend time. You will also have the use of board games, left and right handed guitars or relax and read from a selection of books.
Please Note: This property is not dog friendly.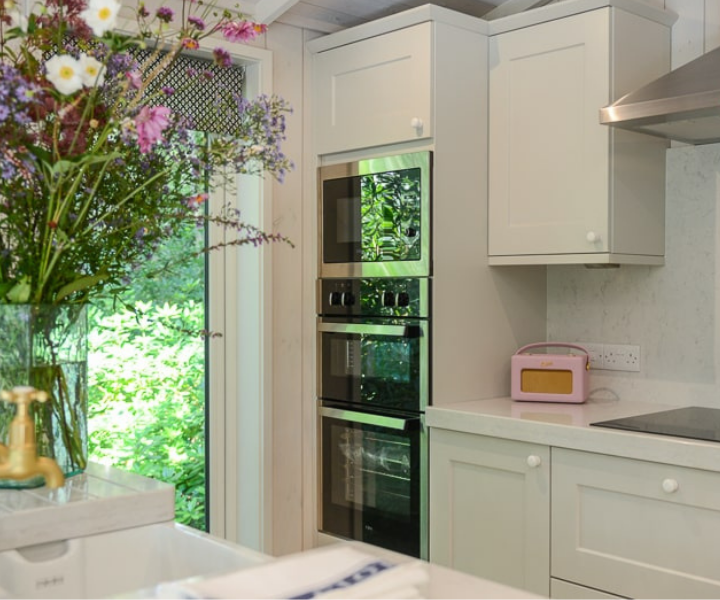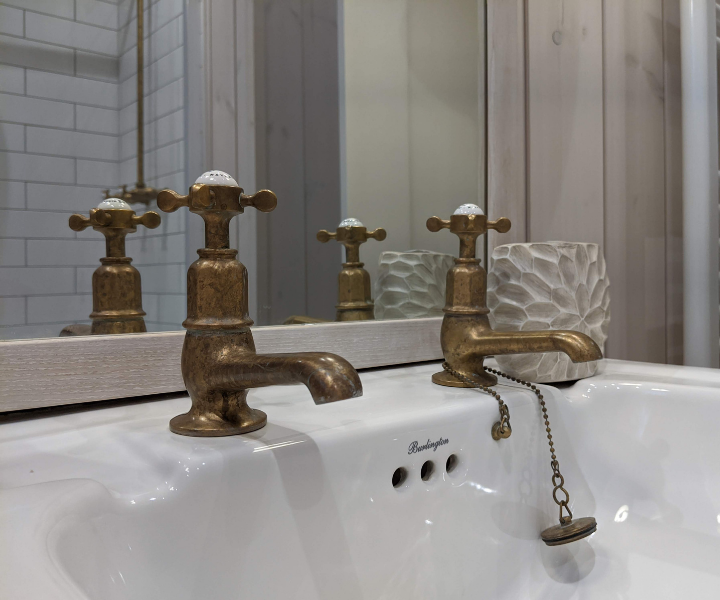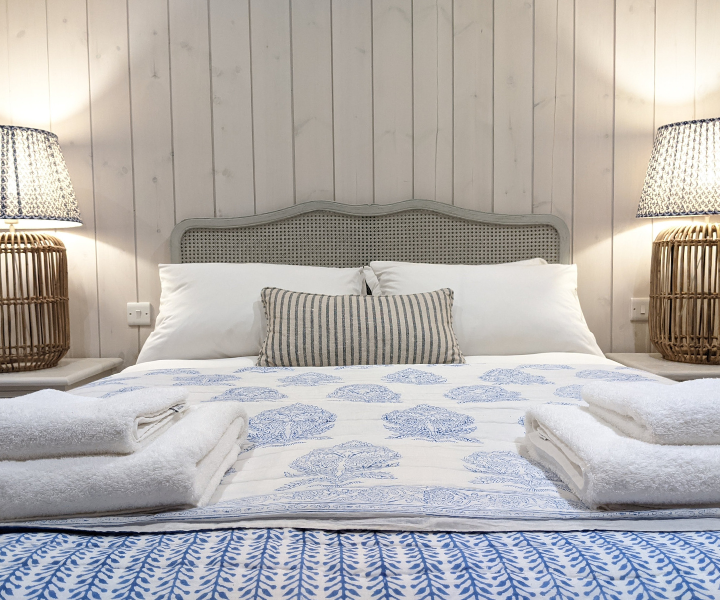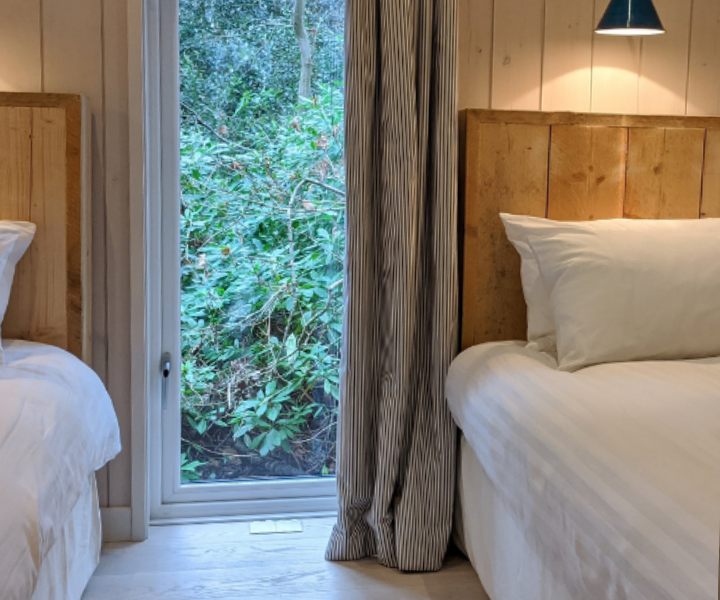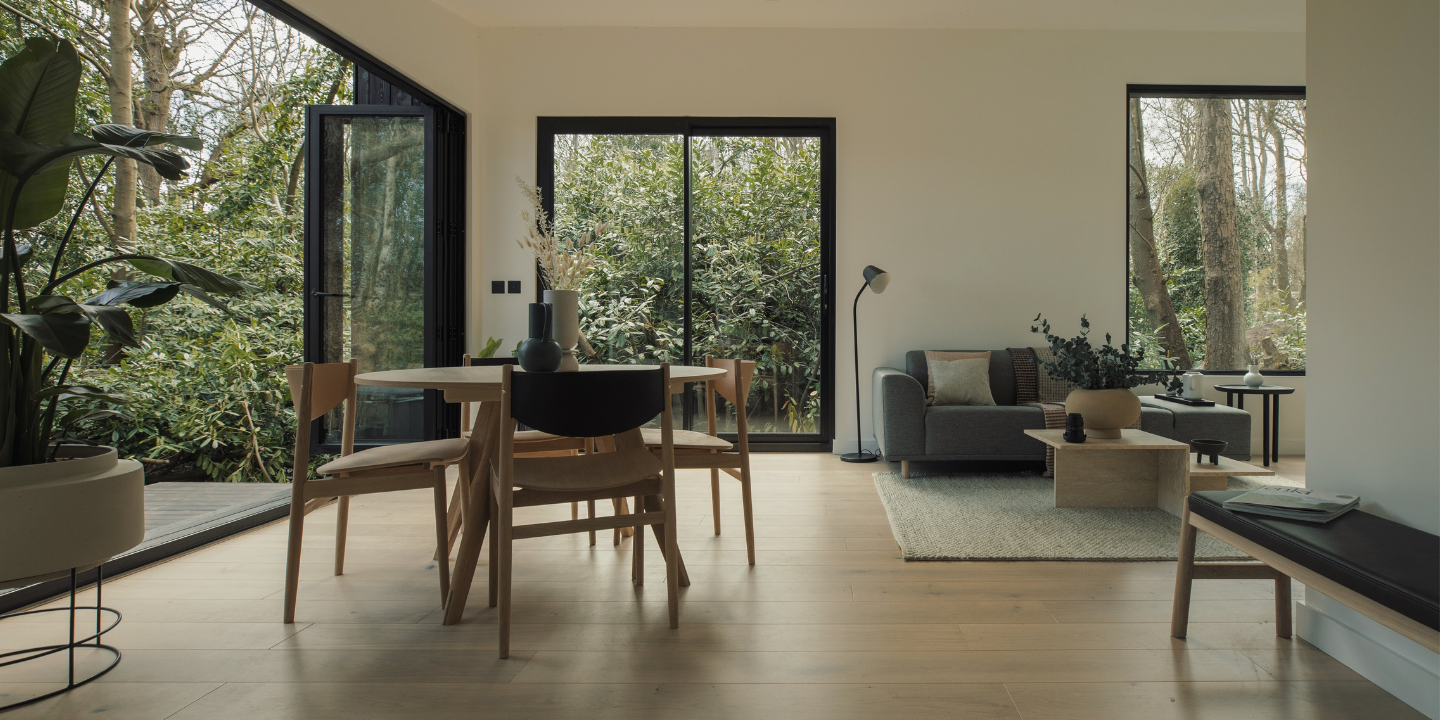 3 bed | Hot Tub | Lake View
Hill Wood 22
This Koto crafted retreat is brand new and full of modern living style. It has 3 bedrooms and is designed for Scandi living. With wood fired tub to the front over looking the lake this retreat is peaceful and secluded.
Please Note: This property is not dog friendly.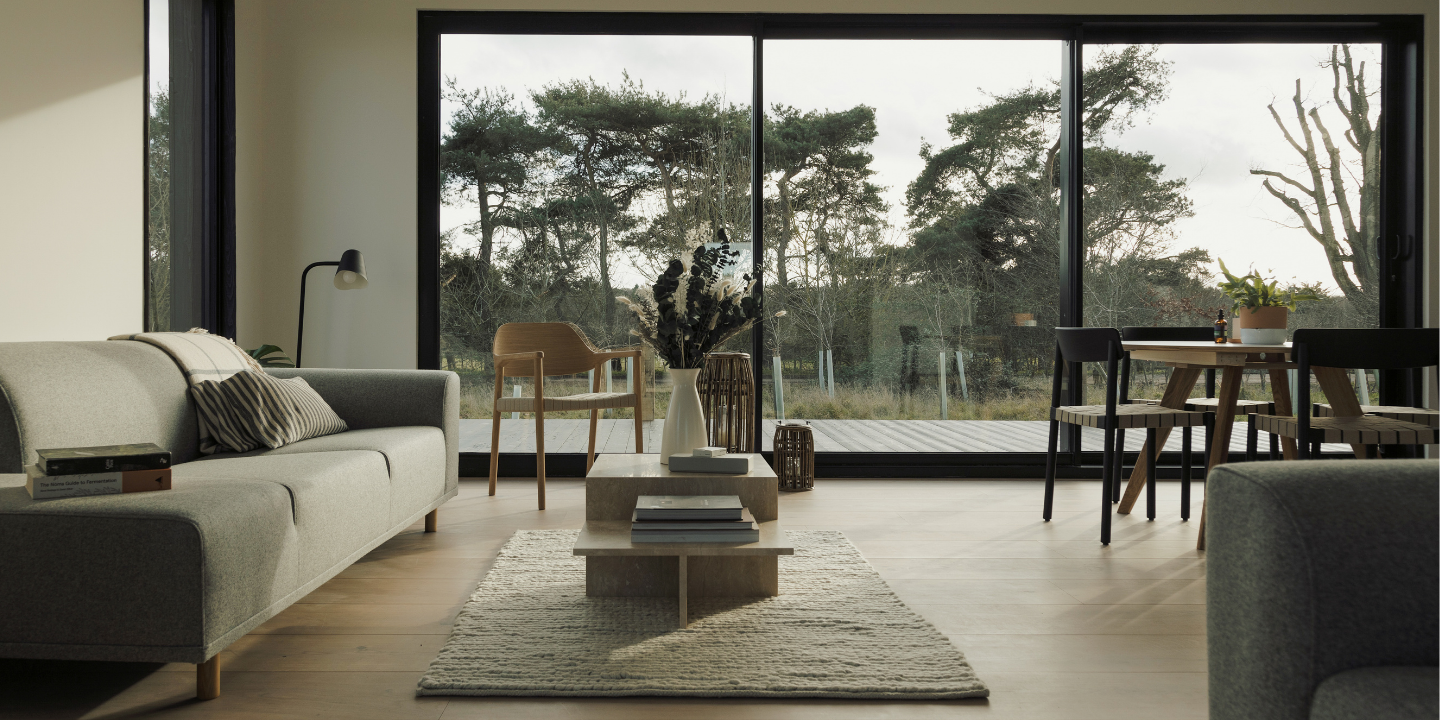 2 bed | Hot Tub | Meadow View
Border Bush 01
This Koto designed 2 bed shed is bright, spacious and simply stunning. Sitting within the heart of the resort on a sunny South facing plot with a huge sun deck. you can be in the Fritton Lake Members Club within minutes of leaving your deck. Its wood fired hot tub makes a special place to relax and enjoy the surroundings. If you are lucky, you might spot our ponies, pigs or buffalo from the master bedroom window. 2 Kingsize bedrooms. Wood burning stove. Ensuite and family shower.
Please Note: This property is not dog friendly.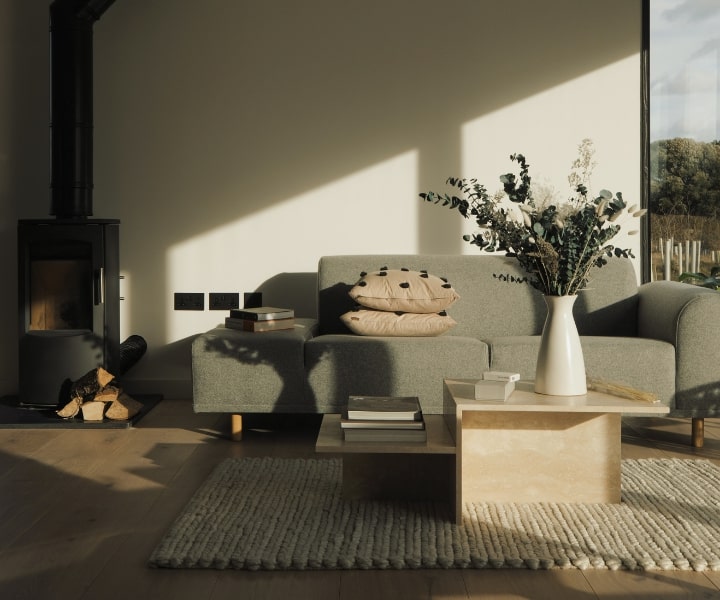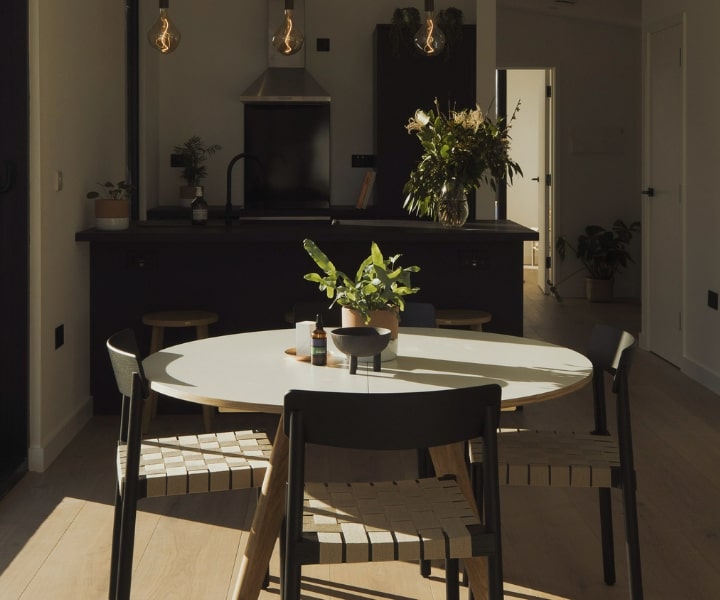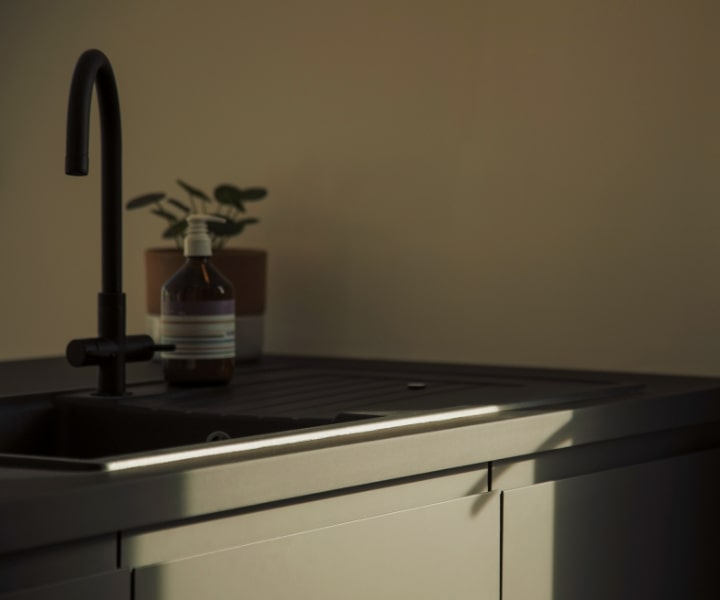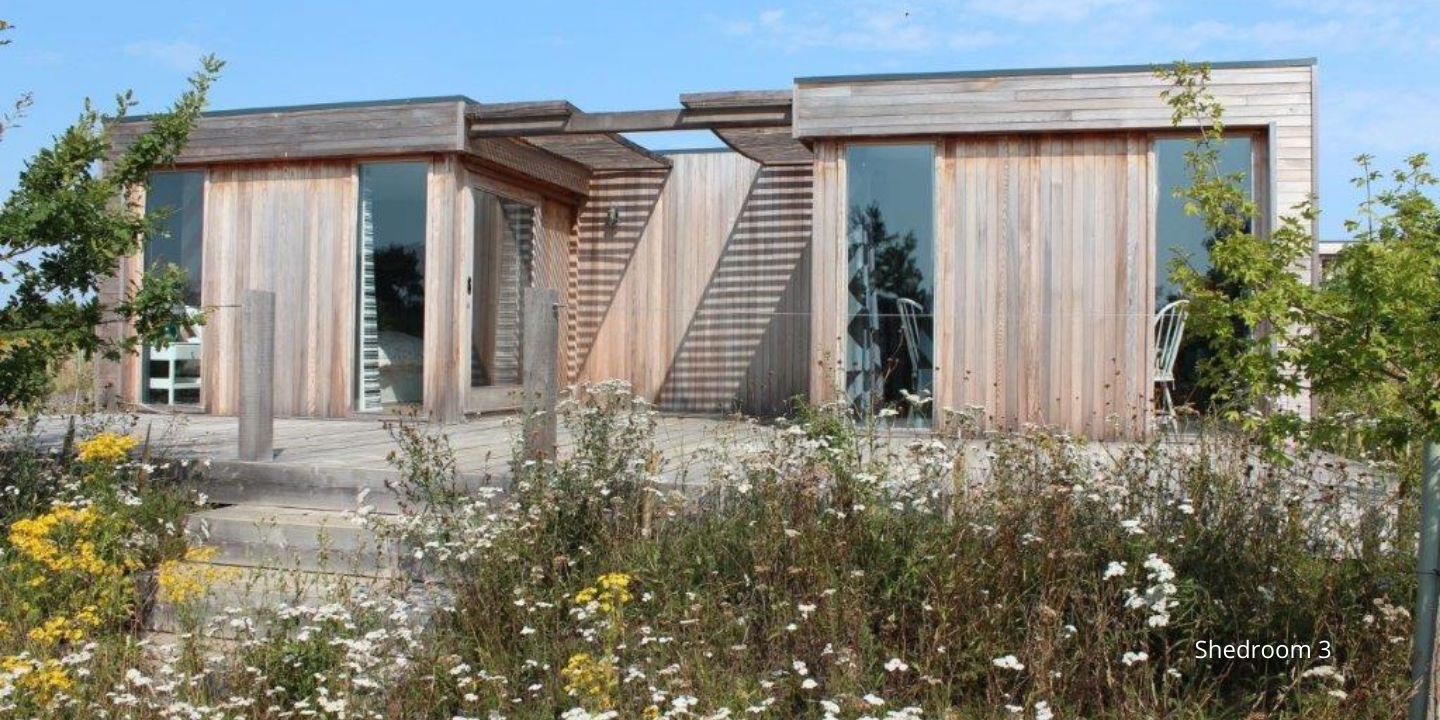 1 Bed | Hot Tub | Dog Friendly | Meadow View
Border Bush 03
This one bed Shed is nothing less than perfection! Sitting south facing on our open meadow, very close to the Fritton Lake Members Club and all of its facilities. This retreat has been fully redeveloped and has many designer features, fabrics and tiles by Bert and May, Sofa by Heals, Graham & Green furniture and Pooky Lighting. With everything that you would need as a wonderful crash pad at Fritton Lake.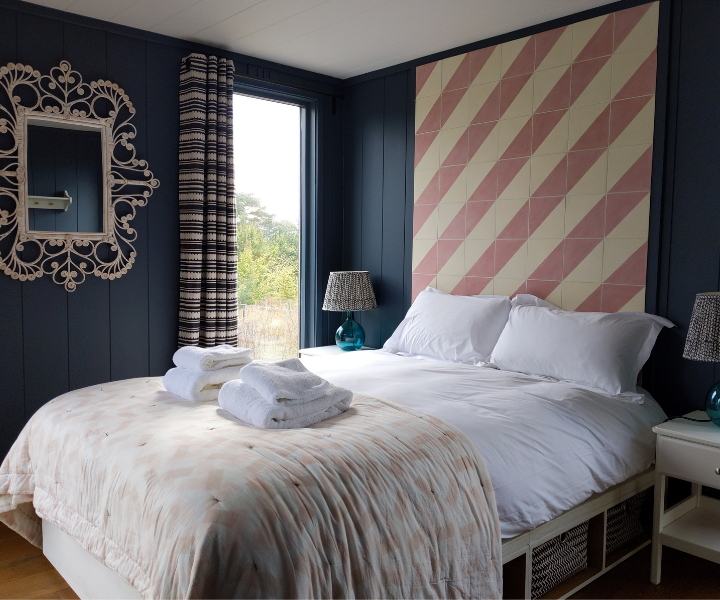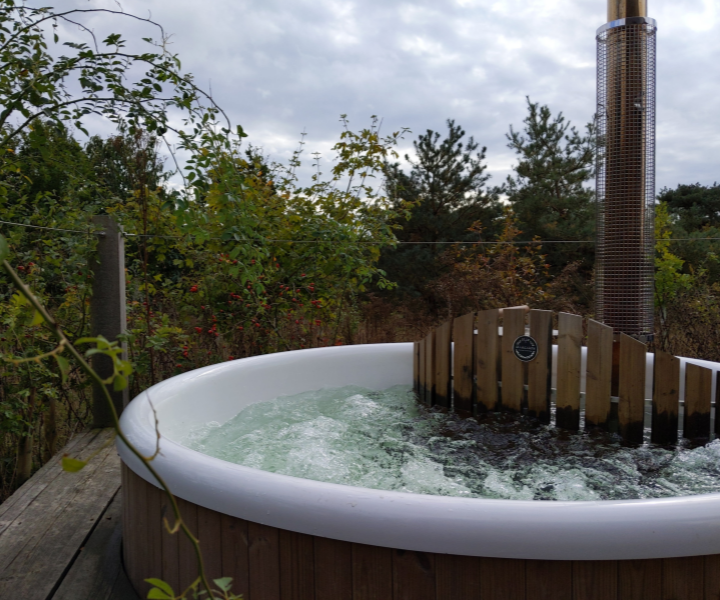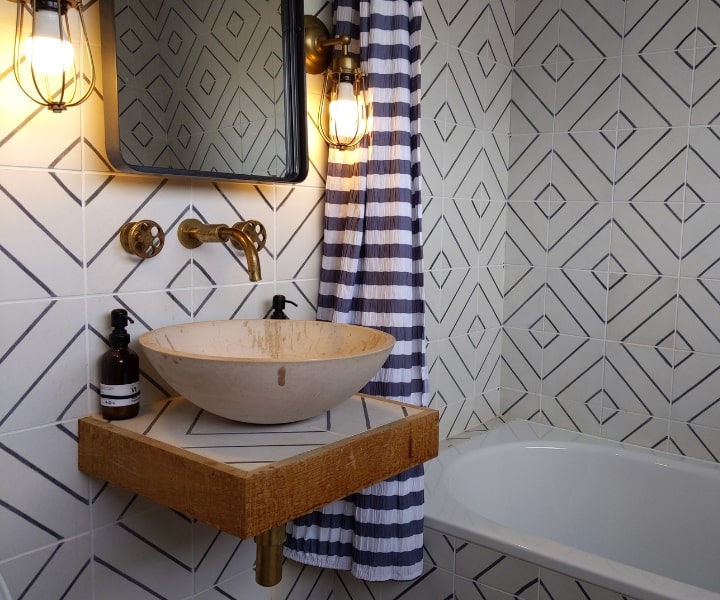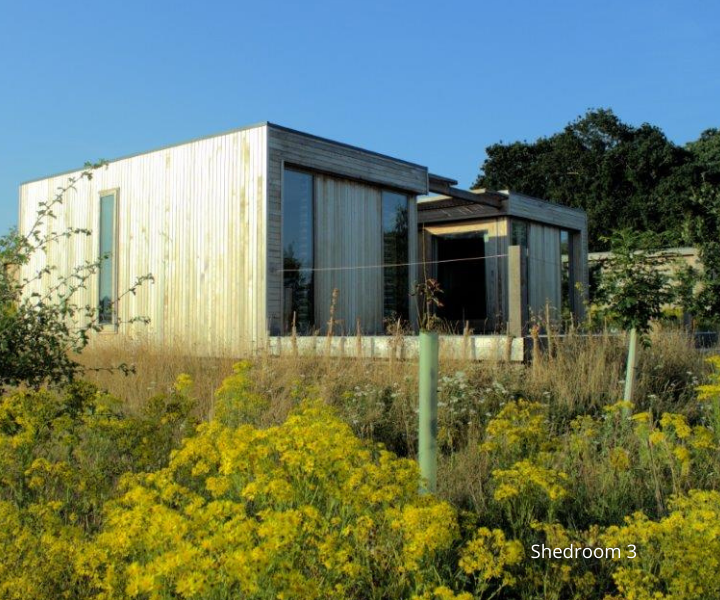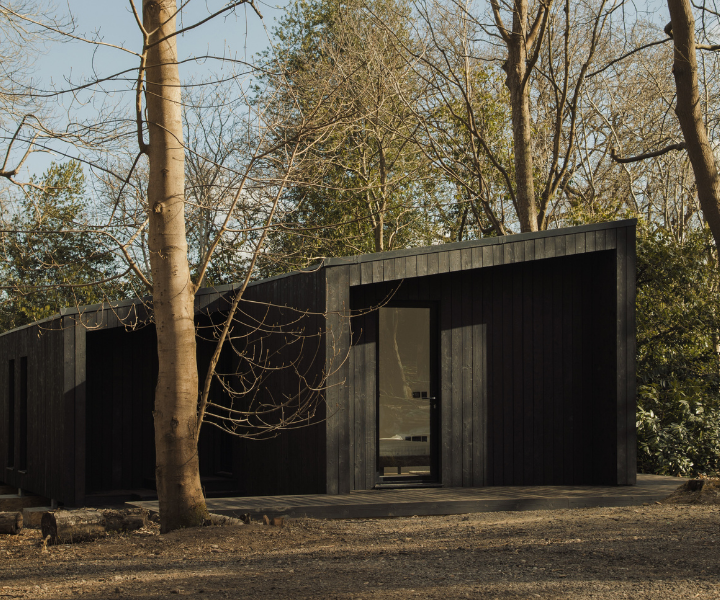 3 Bed | Hot Tub | Lake View
Coach House 50
This brand new Koto Ki has been sensitively designed with one open facade, framing stunning views overlooking the lake. Arguably the most impressive area of the cabin is the open-plan living, dining and kitchen space. Light filled areas exude calm and serenity allowing natures scenery to take center stage, sociable and inspiring spaces. Bespoke cabinetry and wardrobes offer an excellent provision for storage throughout. The space has been thoughtfully designed to enjoy the sanctuary of Fritton Lake, celebrate the simple pleasures of life, relaxing on a sun soaked deck with a book or enjoying the view through the expansive openings. This three bed home offers spacious living accommodation, with 2 king sized beds and a clever stacking bed to the third room which can be single or double, your choice. The two bathrooms, one en-suite to the master bedroom both have the option to facilitate a large free-standing bath or shower/wet room. With a wood fired tub to the front and a wood burning stove in the living space what more could you need!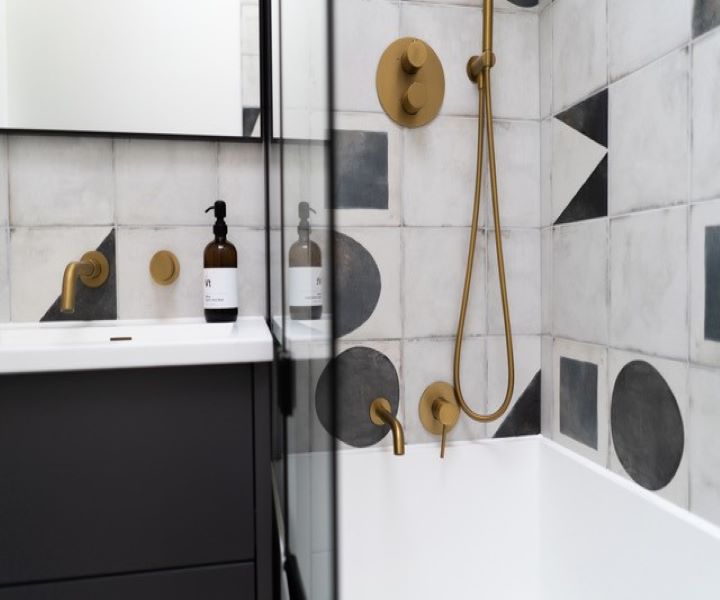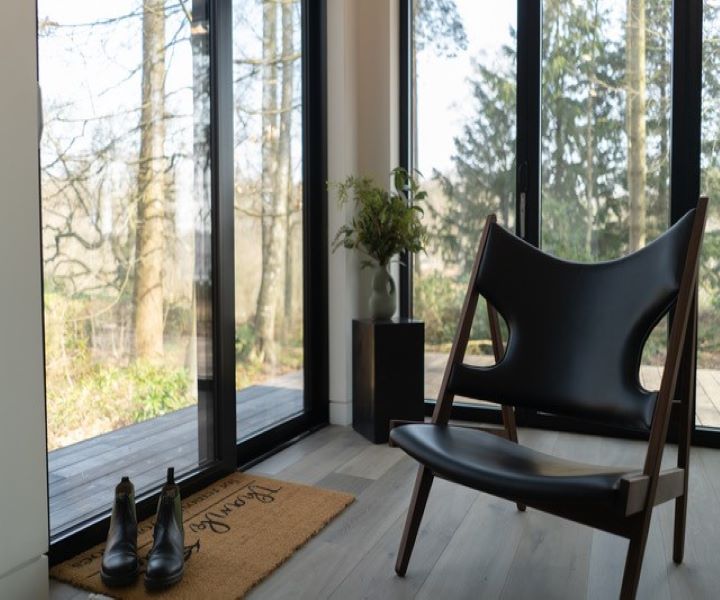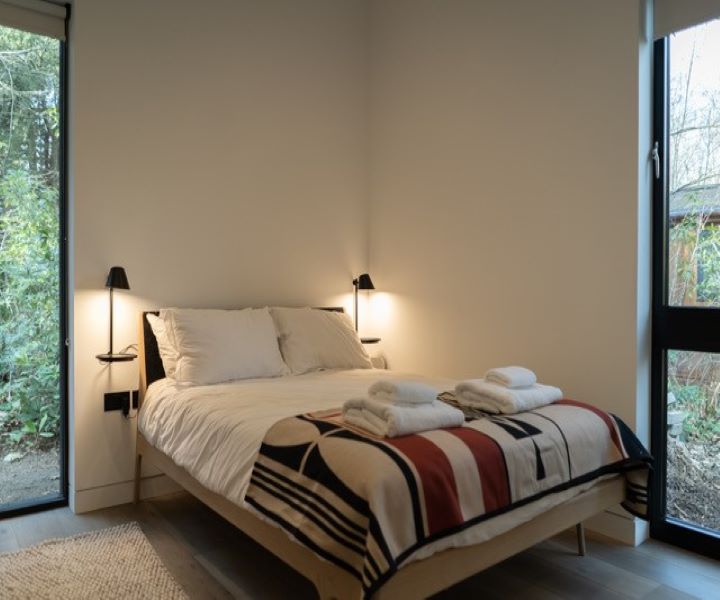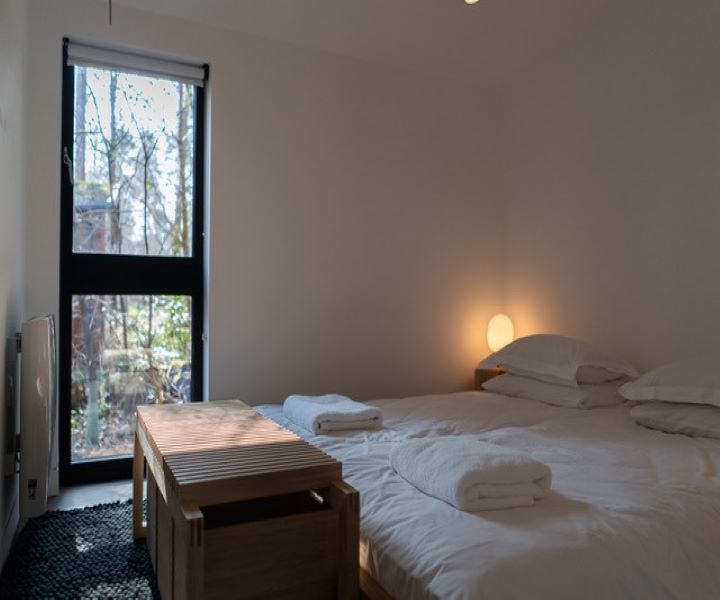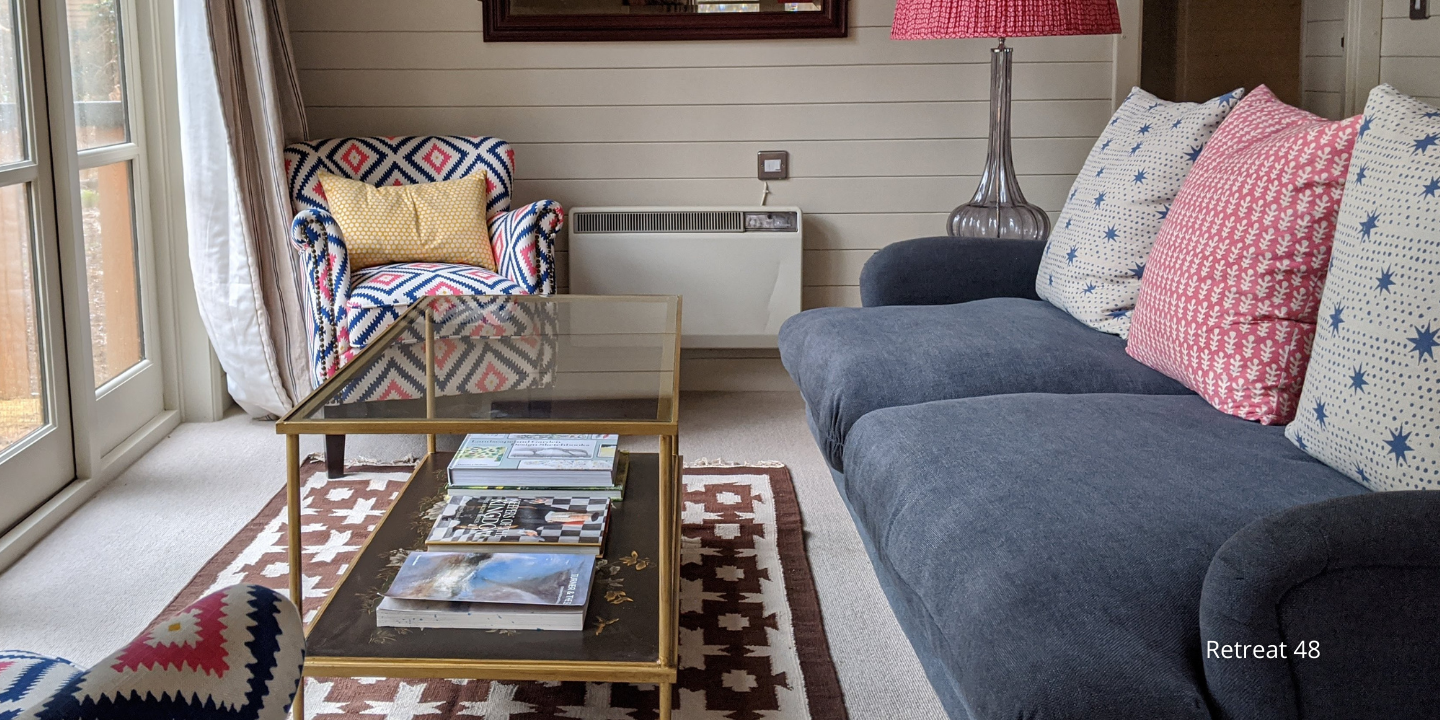 3 Bed | Dog Friendly | Woodland View
Coach House 45
Completely refurbished in 2020 to an extremely high standard. This fantastic 3 bedroom retreat is nestled away in the heart of the woodland. With open plan living, it is an ideal retreat to spend time with your family and friends. Sleeping up to 6 with two twin bedrooms, a family bathroom and a master double bedroom with an en-suite.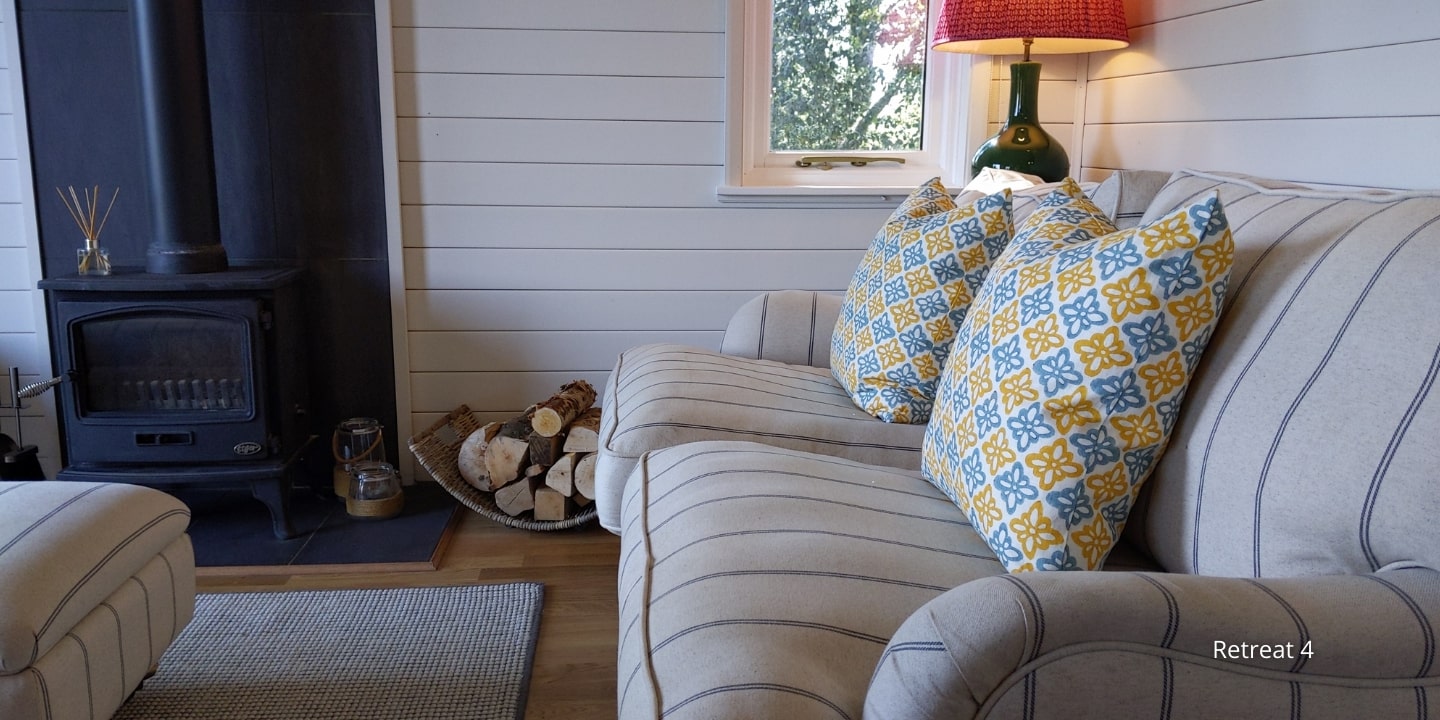 2 Bed | Dog Friendly | Meadow View
Coach House 04
This retreat sits south facing and over looks open views of the meadow and beyond. With an open plan living dining room including a log burning stove this retreat is perfect for summer sunshine and cozy winter days. With a double bedroom and second bedroom with two single beds this retreat is perfectly formed. A newly fitted shower room and updates to the kitchen gives a modern and user-friendly space.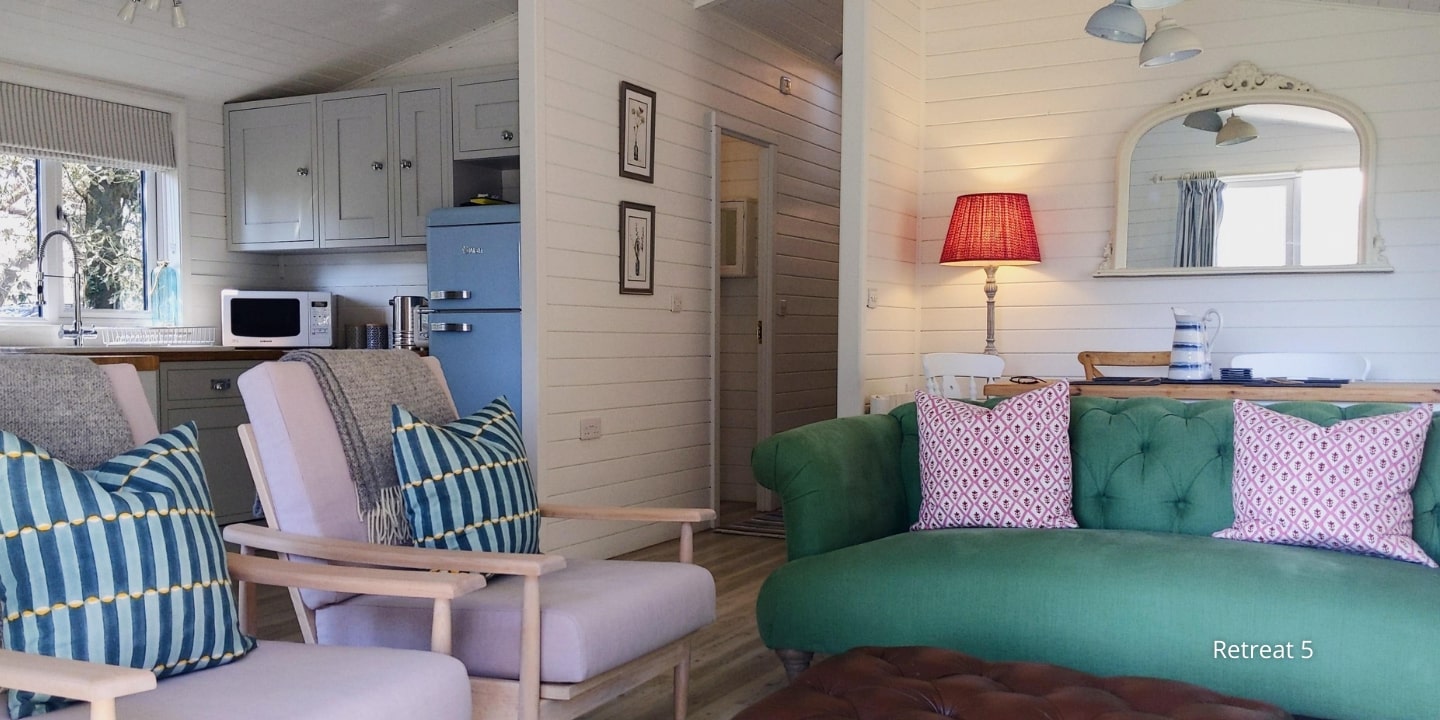 2 Bed | Dog Friendly | Meadow View
Coach House 05
This retreat is stylish, bright and modern. A large retreat with 2 bedrooms, a master with ensuite and a twin room with two single beds. Its painted throughout and has new furnishings in the main living space. With large doors and windows to the south facing front this home is light and welcoming.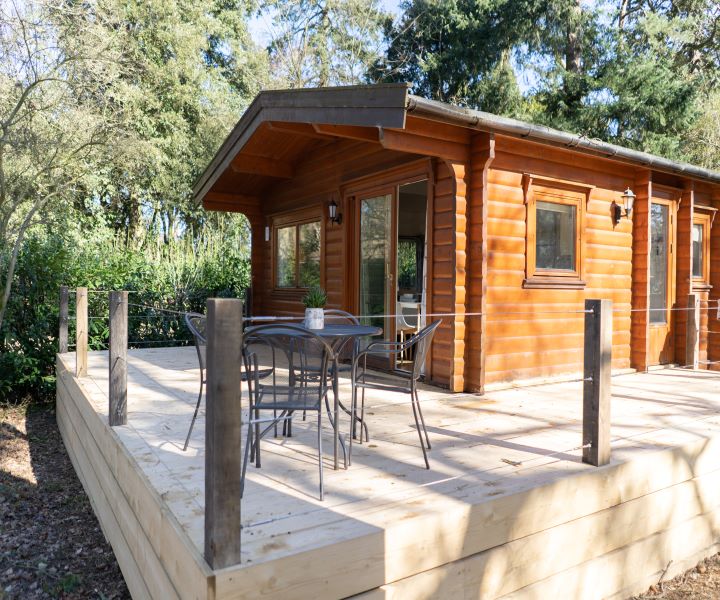 2 Bed | Dog Friendly | Woodland View
Coach House 09
Set among beautiful mature woodland, this retreat offers secluded accommodation for up to 4 people. The use of natural wood provides a cosy atmosphere from which to enjoy the lovely surroundings. The terrace is a great spot for al fresco family meals or a place to just sit, relax and take in the view. The open plan accommodation featuring living, dining and kitchen areas means you'll be able to spend time together, no matter how you like to spend your free time. There are 2 bedrooms – one double and one twin.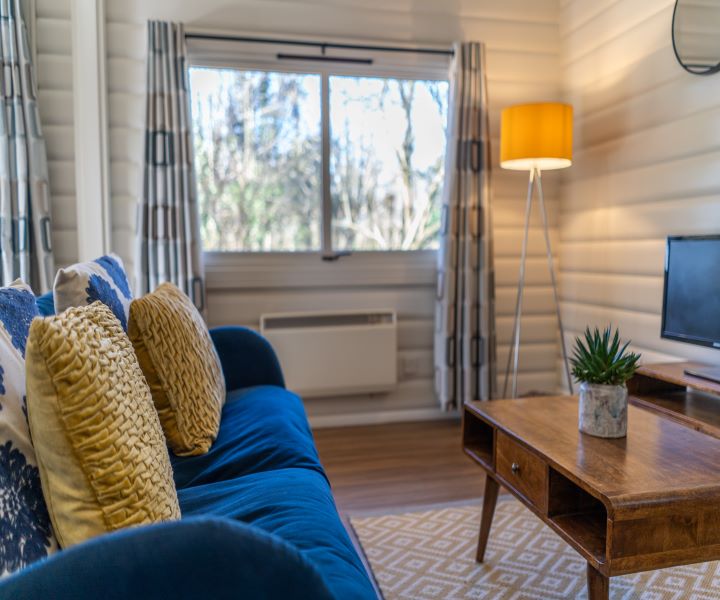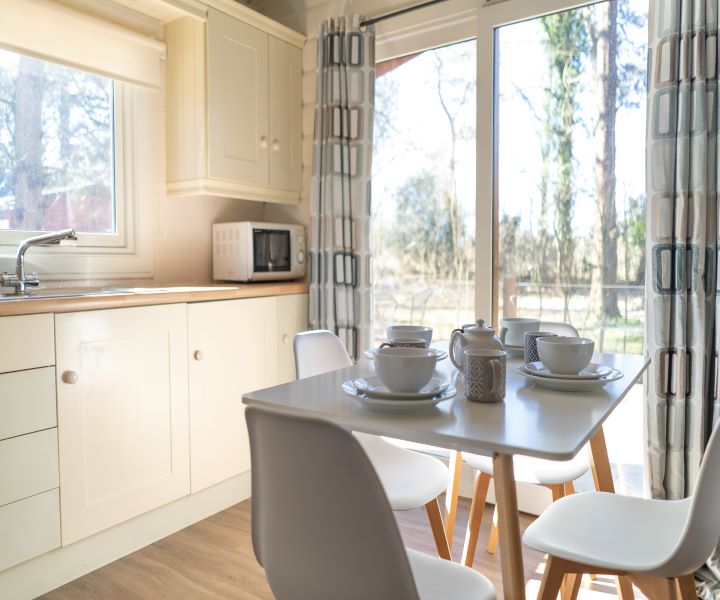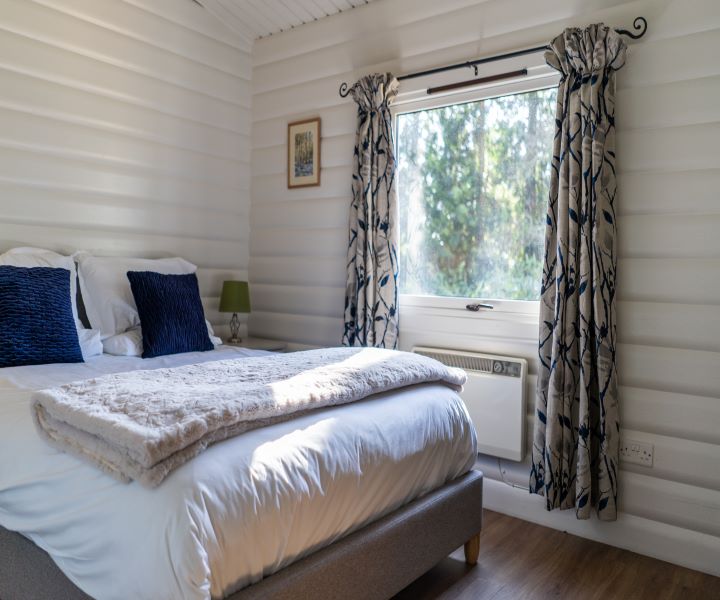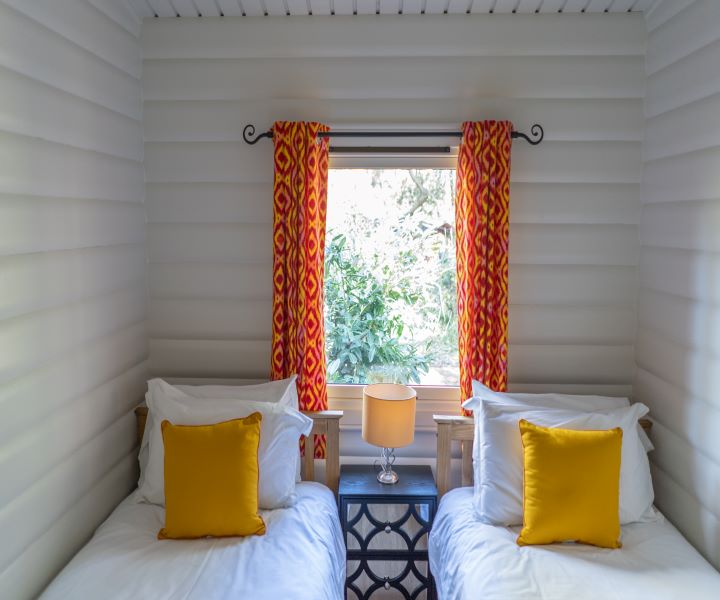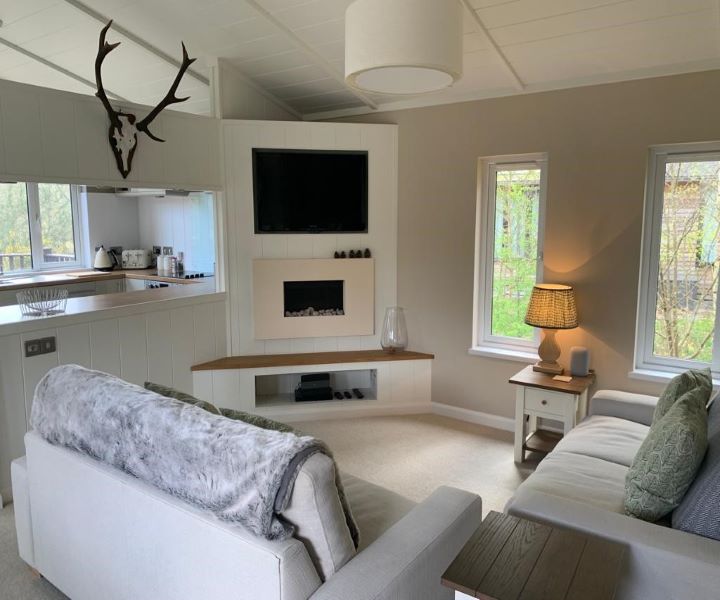 2 Bed | Woodland View
Coach House 15
A two beautifully presented modern style cabin in the most private is south facing spots. Presented with a double bed with modern en-suite bathroom and a large twin bedded room there is plenty of space for fun and games. There is a family bathroom with a bath and a shower over head. In the lounge with modern open plan living there is plenty of sofas, a smart TV and family dining. In the kitchen with dishwasher, washing machine and all the equipment you need to cater. Onto the deck there is privacy and wildlife supplied by the mature trees, and the sunny spot makes the most of outside living.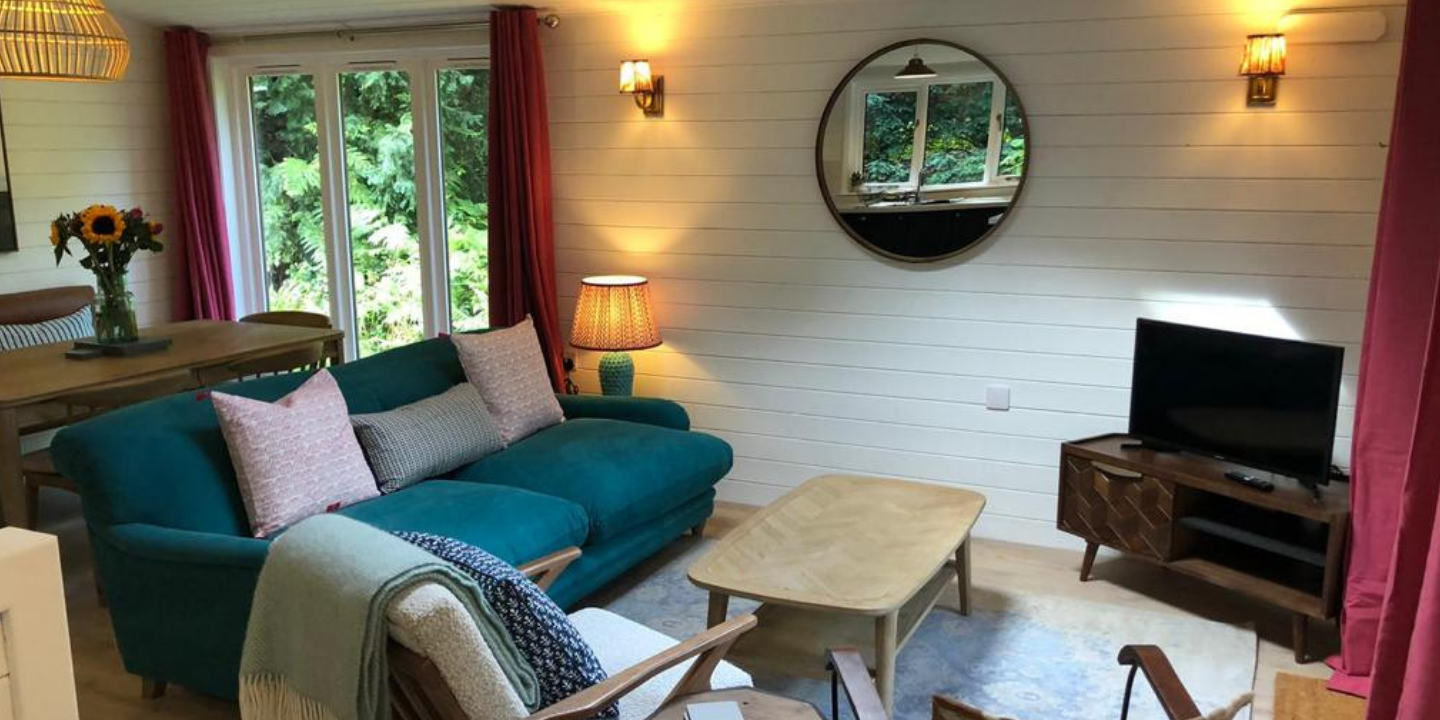 3 Bed | Hot Tub | Woodland View
Coach House 32
Newly renovated, 3 bedroom retreat - sleeps 6.
Two double bedrooms, one with ensuite. One twin bedroom and family bathroom. Lake views and secluded location.
Please Note: This property is not dog friendly.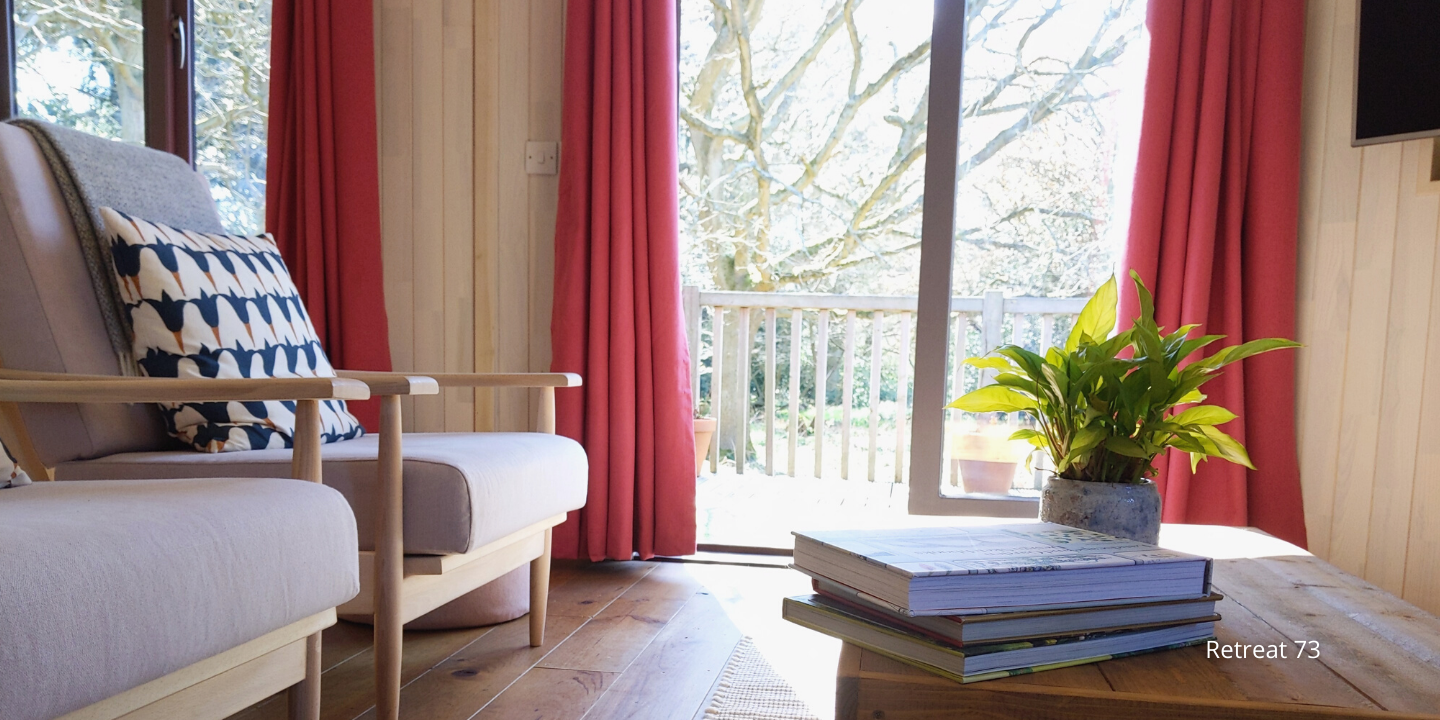 3 bed | Hot Tub | Dog Friendly | Meadow View
Coach House 17
This retreat is a classic cabin in the woods, with the benefit of sitting on a sunny south facing plot. With its Waney Edged Larch and smart grey windows this is the perfect hideaway. Presented with a master suite with cozy bed and ensuite shower. With a further double room and twin bedroom, sleeping a total of 6 people. All of the walls are white washed and there is smart wood flooring throughout. With contemporary wood furniture it really fits with the cabin in the woods, with a dash of luxury!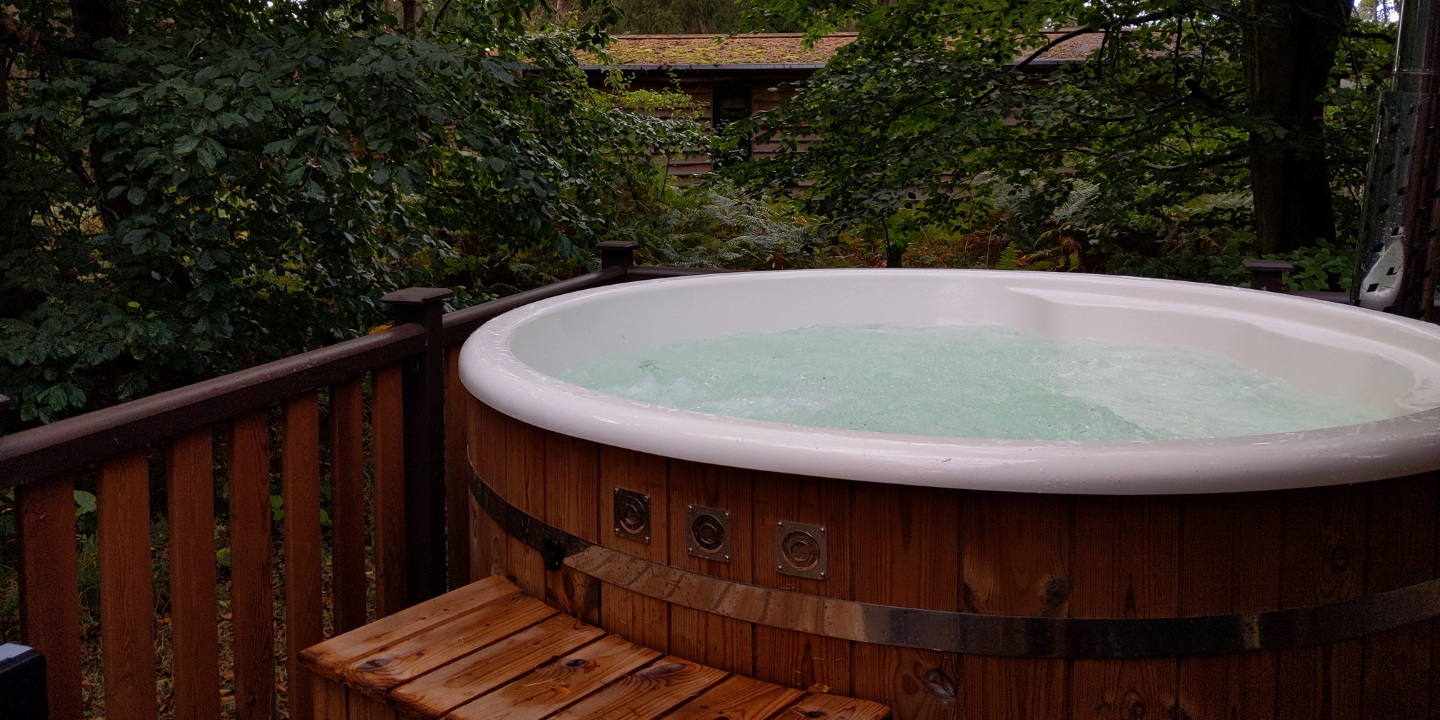 3 Bed | Hot Tub | Dog Friendly | Woodland View
Coach House 46
Newly renovated with gorgeous painted interior with new flooring and soft interiors. Sitting in a private plot within the woodland with dappled sunlight across the terrace. You will also be able to relax under the stars in your own outdoor hot tub.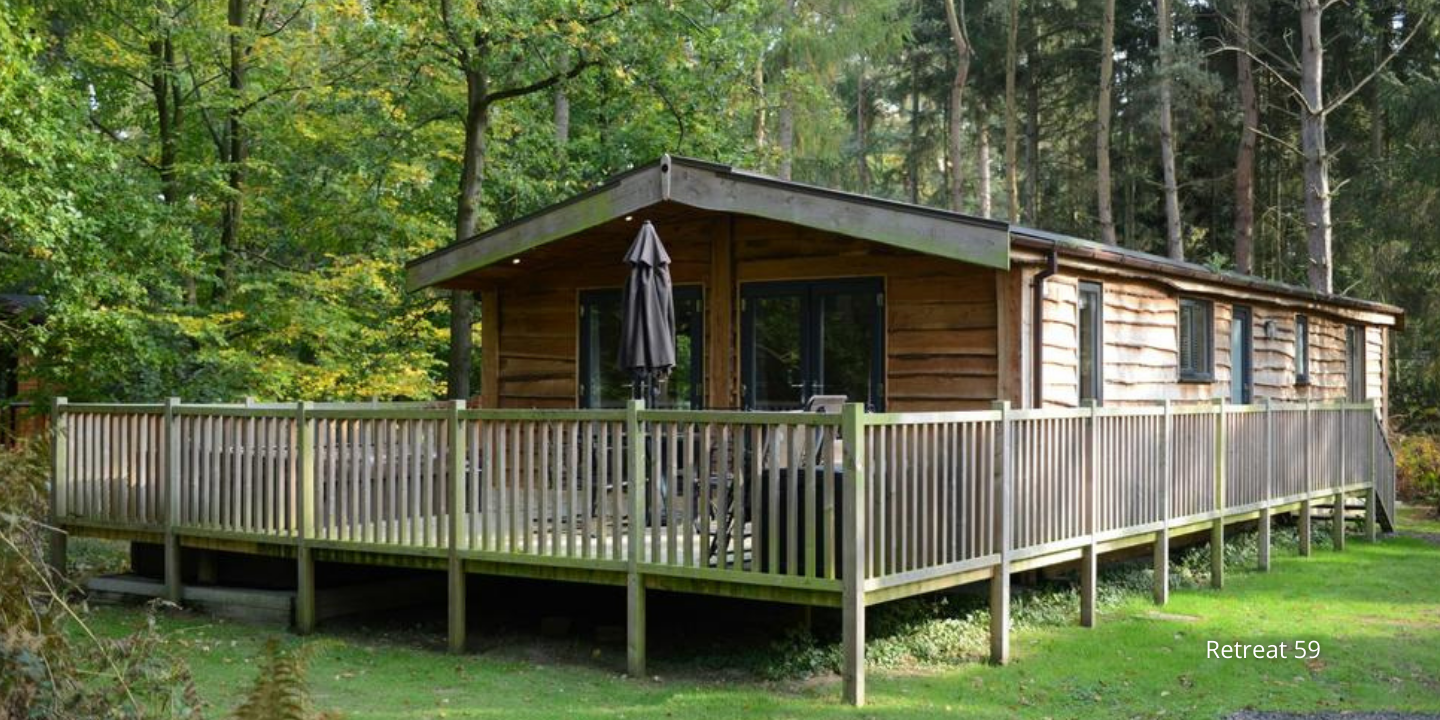 3 Bed | Hot Tub | Dog Friendly | Woodland View
Coach House 30
Surrounded by picturesque woodlands sits this beautiful 3 bedroom retreat sleeping up to 6 people. With generous, light and airy open plan living, it offers an excellent space to spend time with family or friends. Parking is next to the retreat and the property is accessed by steps leading up to the decked terrace where you'll also find a hot tub. The decked terrace is also a lovely spot for those al fresco family meals.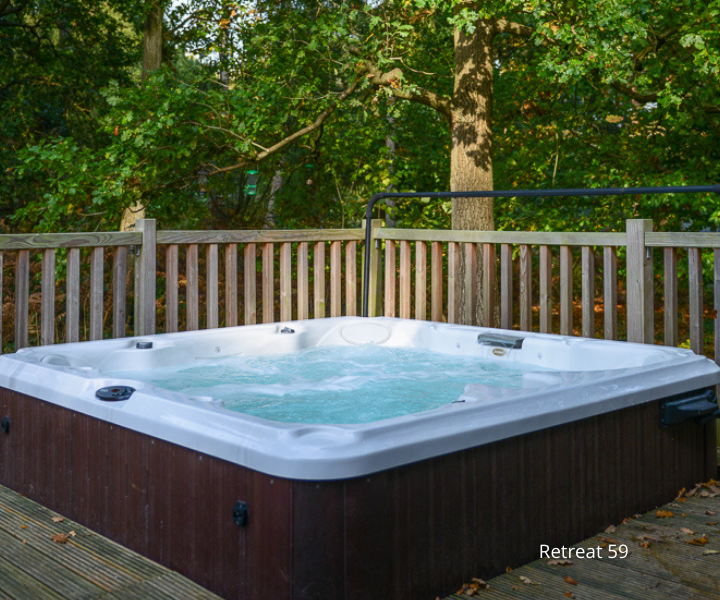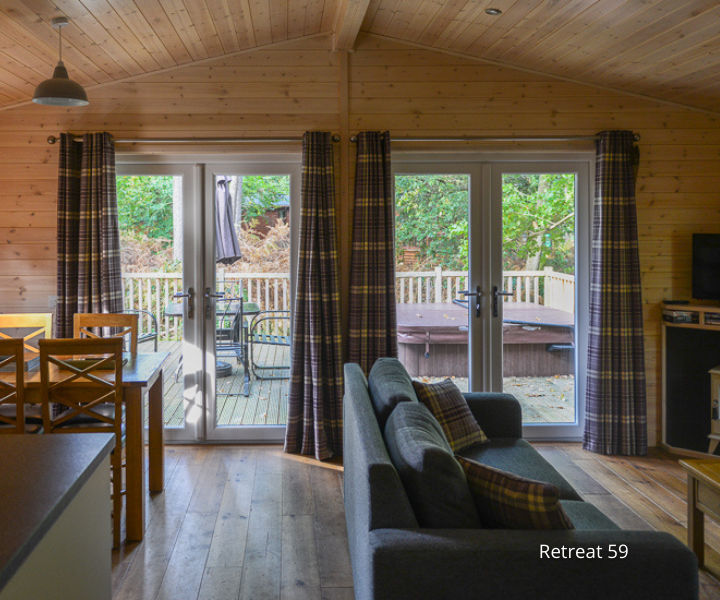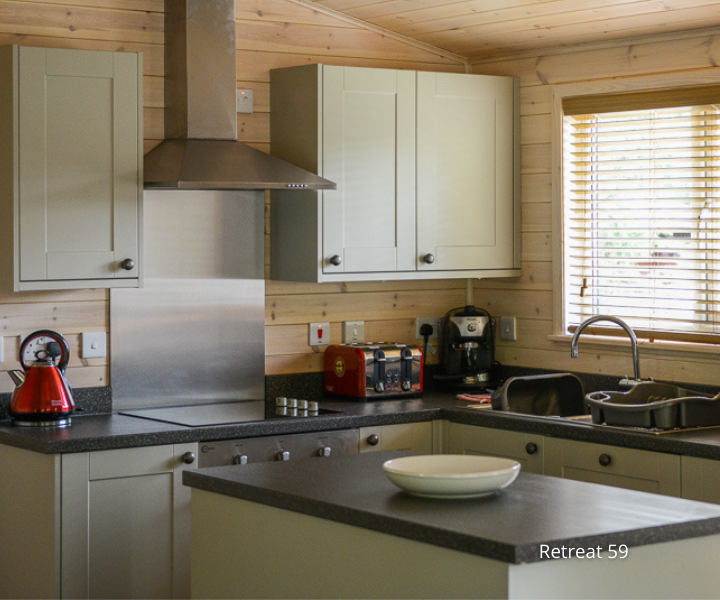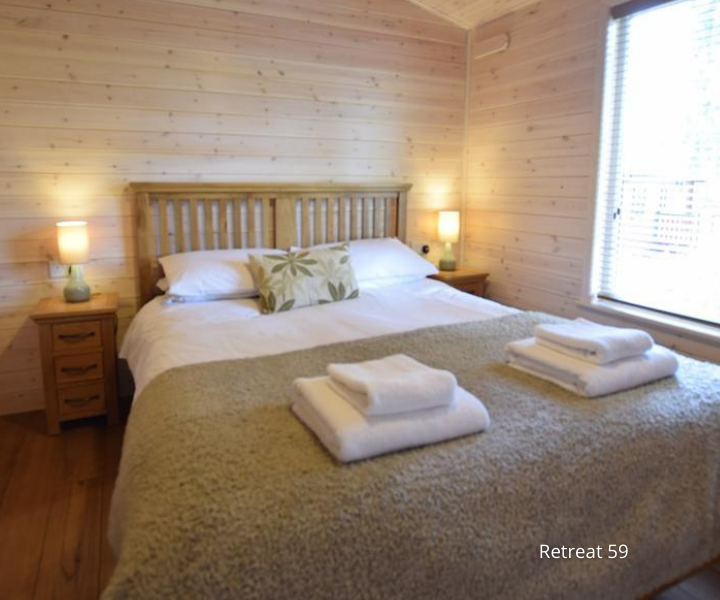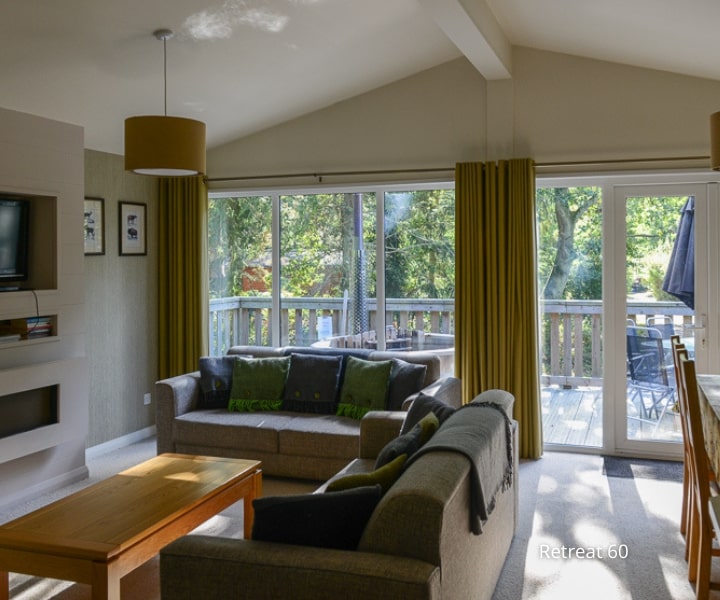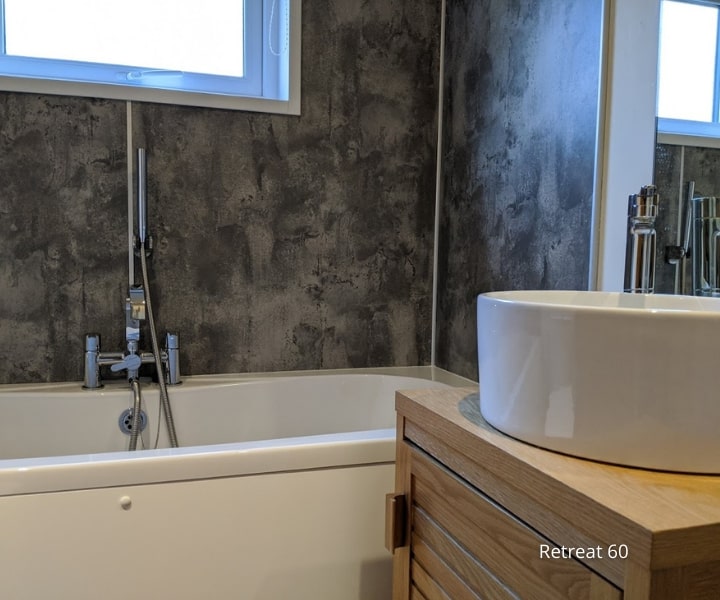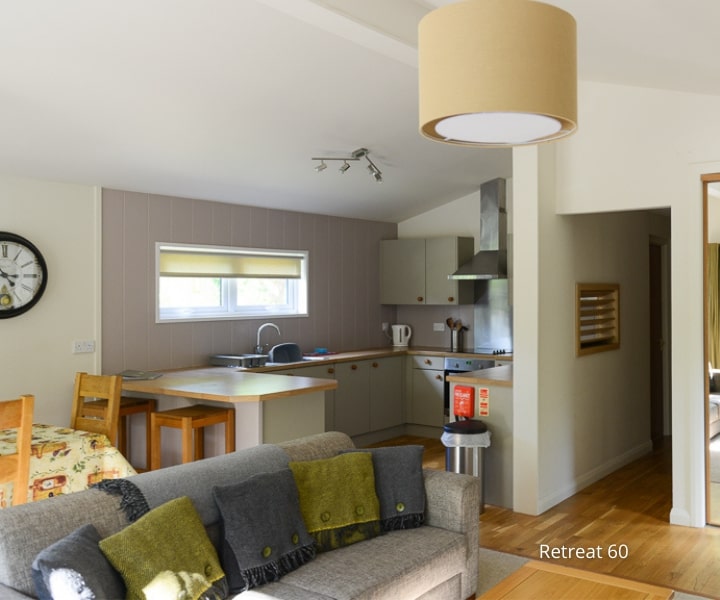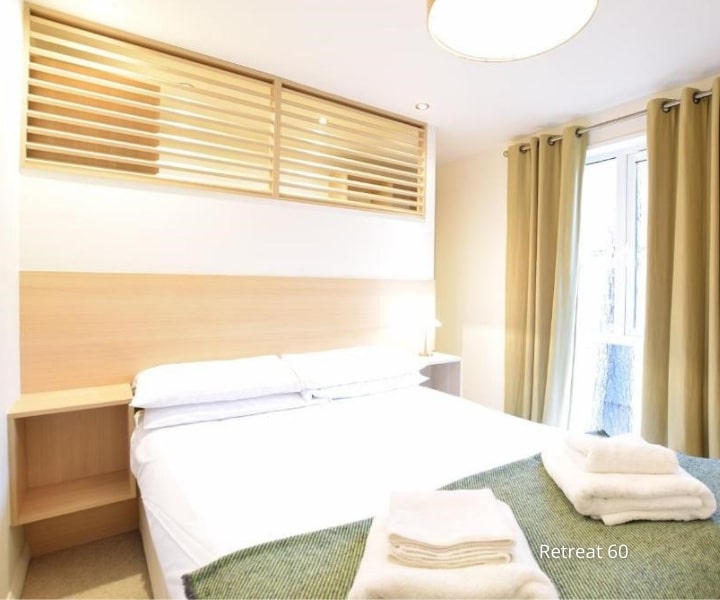 Compare our retreats
| Retreat | Sleeps | Bedrooms | Pets | Hot Tub | Wifi |
| --- | --- | --- | --- | --- | --- |
| Retreat 4 | 4 | 2 Bed 1 double, 1 twin | | | |
| Retreat 5 | 4 | 2 Bed 1 double, 1 twin | | | |
| Retreat 39 | 6 | 3 Bed 1 double, 2 twin | | | |
| Retreat 48 | 6 | 3 Bed 1 double, 2 twin | | | |
| Retreat 58 | 6 | 3 Bed 1 double, 2 twin | | | |
| Retreat 59 | 6 | 3 Bed 1 double, 2 twin | | | |
| Retreat 73 | 6 | 3 Bed 1 double, 2 twin | | | |
| Hillwood 2 | 6 | 3 Bed 3 double | | | |
| Hillwood 5 | 6 | 3 Bed 2 double, 1 twin | | | |
| Hillwood 10 | 6 | 3 Bed 2 double, 1 twin | | | |
| Hillwood 16 | 6 | 3 Bed 2 double, 1 sofabed | | | |
| Shedroom 1 | 4 | 2 Bed 2 double | | | |
| Shedroom 3 | 4 | 1 Bed 1 double, 1 sofabed | | | |
| Buxton cottage | 6 | 3 Bed 2 double, 1 bunks | | | |
| Decoy cottage | 6 | 3 Bed 2 double, 1 bunks | | | |